yeah it's gonna be a heavy one!!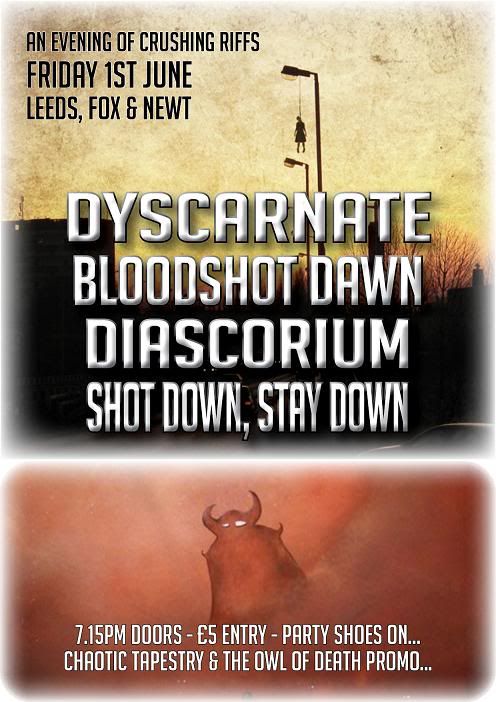 DYSCARNATE - BLOODSHOT DAWN - DIASCORIUM - SHOT DOWN STAY DOWN
http://www.facebook.com/events/292454987512877
18+ EVENT - 7.15PM DOORS - £5 ON THE DOOR
LEEDS, THE FOX AND NEWT
(BURLEY STREET, LEEDS, LS3 1LD, OPPOSITE PARK LANE CAMPUS JUST ON THE EDGE OF THE TOWN CENTRE)
DYSCARNATE:
One of the UK's most prolific new school death metal bands, having links to Siege of Amida, Foel Studios, and toured with the likes of Cephalic Carnage, Psycroptic, Despised Icon and The Black Dahlia Murder.
Punishing riffs sitting somewhere between Dying Fetus and All Shall Perish, they tour on the back of their second album, and are ready to smash faces.
www.facebook.com/Dyscarnate
www.myspace.com/dyscarnate
BLOODSHOT DAWN:
Hampshire based band who blend elements of Melodic Death Metal and Thrash Metal with a brutally technical approach.
Along the lines of Man Must Die meets Testament meets Children Of Bodom, a blistering live show is promised.
www.bloodshotdawn.bandcamp.com
www.facebook.com/BloodshotDawn
DIASCORIUM:
Black metal with tech and slam and sludge and doom and death and misanthropy and fun and daft amplification.
Listen to all our songs here...
http://www.diascorium.bandcamp.com/
http://www.facebook.com/diascorium
http://www.diascorium.webs.com/
SHOT DOWN STAY DOWN
Battering deathly hardcore from York, expect tons of energy and broken bones.
http://www.facebook.com/SHOTDOWNSTAYDOWN
www.youtube.com/shotdownstaydown
Unfortunately the previous event page was cancelled and deleted after the promoter stopped being the promoter, so, an emergency re-event-is-happening page has been created.. Please help us get the word around again after a lot of hard work went down the drain!